The Nordic diet – Guidelines for the new healthy eating style recommended by dietitians
The Nordic Diet or also called the New Nordic Diet, very similar to the good known for us Mediterranean diet is now catching attention and is highly recommended by dietitians and doctors.
In the West, especially in the U.S., we consume too much added sugars, saturated fats, sodium, and not enough vegetables, fruits, healthy oils. The Nordic diet represents all this good stuff.
This Scandinavian healthy eating style developed by experts is based on three principles:
More calories from plant foods and less from meat

More foods from the sea and lakes

More foods from the wild countryside
This is only the base of the Nordic diet, down here in this article we will present to you what is the Nordic diet, why is good to follow this new way of healthy eating and so much more related to this diet that is becoming more and more popular!
This post may contain affiliate links, which means we may receive a small commission, at no cost to you, if you make a purchase through a link. For more information, please see our disclosure.
What is the Nordic Diet?
The Nordic Diet also called the New Nordic Diet is a way of eating that focuses on locally sourced foods in the Nordic countries – Denmark, Sweden, Norway, Finland, and Iceland.
It was created in 2004 by a group of experts in Copenhagen, with a goal to improve public health. The Nordic diet is rooted in tradition back to the Vikings and is comprised of natural fresh foods. It consists of high amounts of nutrient-rich, single foods with vegetables being the cornerstone of this diet, and meats only filling the leftover space.
Some experts believe that the Nordic diet is on par with the Mediterranean diet, and this is because both diets feature anti-inflammatory foods that are high in omega-3 fats like fish, and both include lots of vegetables and fruits.
One of the main differences between these two diets is the go-to oil. In the Mediterranean diet, it's olive oil, while in the Nordic diet dominates the canola oil.
Many experts agree that both diets are equally healthful because both oils provide health-protective monounsaturated fats, but the Nordic diet takes nutrition a few steps further, with specific directives aimed at optimizing food quality, and connecting the dots between the production of food and the health of the environment.
According to U.S. News and World Report, the Nordic diet is #9 in their Best Diets Overall and this diet has a score of 3.6/5.
Nordic diet foods: What to eat and what you should avoid
Foods to eat:
Fruits and vegetables

Whole grains

Fish

Healthy fats

Dairy products

Poultry
Foods to avoid:
Sweetened beverages and added sugars

Processed foods

Red meat
Fruits and Vegetables
Creators of the Nordic diet recommend including at least one cup of vegetables and one cup of fruit each day. Their suggestion is to include more cruciferous vegetables such as cabbage, root vegetables, potatoes, and when it comes to fruits: apples, pears, and especially berries.
The Nordic diet plan is especially rich in berries. Berries are rich in vitamins and minerals, but also low in calories. They also contain phytochemicals due to their colorful red and blue pigments.
You should eat at least two cups of berries per day: strawberries, blueberries, raspberries, or lingonberries.
Whole grains
Whole grain products such as barley, oats, rye give 25% of the Nordic diet's calories. Whole grain pasta, brown rice, and whole-grain bread are also allowed in this diet. You can also consume rye and whole-grain cereals, as long as they don't contain added sugar or honey.
Fish
Eat salmon, herring, or mackerel twice a week, plus eat one meal made with low-fat fish like haddock or cod.
Healthy fats
Healthy fat sources are canola oil, nuts, seeds, and fatty fish such as salmon. Seeds are a great source of omega-3 fatty acids, if you want to learn more about this here is a further reading for you: Different Types Of Edible Seeds That You Should Add Into Your Diet.
Dairy products
Sugary yogurt products and sweetened milk drinks are not allowed on this diet. You can consume low-fat milk, yogurt, and cheese. Consume at least two servings per day.
Meats
Allowed: turkey, chicken, and lean cuts of lamb and venison. Avoid red meats including beef.
Processed foods and added sugars
Avoid products that contain added sugars, salt, and fat. One daily serving of fruit or berry juice is ok but otherwise stick with coffee, water, tea, and low-fat milk.
The Nordic diet emphasizes foods that are locally sourced and sustainably farmed. Compared to an average Western diet it contains less fat and sugar but twice the fiber and seafood.
Some of the foods on the Nordic diet didn't exist in the Nordic countries centuries ago (low-ft dairy and canola oil), but the diet wasn't designed to reflect what Nordic people ate hundreds of years ago. It emphasizes healthy foods that are sourced locally in modern day-Scandinavia.
Nordic diet plan guidelines
There are some basic principles that you need to follow if you decide to start with the Nordic diet. Here are the main guidelines that you need to know:
Fill half your plate with vegetables (onions, cabbage, carrots, garlic, tomatoes, spinach, and broccoli), the rest of your plate should contain high-fiber carbs, rye bread, oats, wholewheat pasta, plus some good-quality protein like fish, or lean meat.
Include fish in your meals 2-3 times a week, plus 1-2 portions of an oily variety like salmon or mackerel
As a dessert eat as many berries as you can, and choose fresh ones if you can if it is not the season frozen are good too
Help yourself to a portion or two of low-fat dairy – or a small matchbox-sized piece of cheese a day is fine
Recipes for the Nordic diet are available but can be hard to find. Here are some books that are available online and can help you with the New Nordic way of eating. The first one is "The Nordic Way" available in English, which includes a variety of easy-to-follow recipes.
The second is "The Nordic Kitchen: One Year Of Family Cooking", this is the book by the co-founder of Noma, a four-time winner of the title of World's Best Restaurant. The book is divided into four chapters of seasonally based recipes.
Nordic diet meal plan: A day of typical meals from the "Nordic Way"
Breakfast – Almond butter sandwich with a fried egg
1 large egg
1 slice whole-grain rye or whole-rye pumpernickel bread
4 teaspoons almond butter
Snack – Pear with basic yogurt dip
1 pear
2/3 low-fat Greek yogurt
1 tablespoon Dijon mustard
1 tablespoon fresh lime juice
1 tablespoon honey
Salt and ground black pepper
Lunch – Rye salad with berries and lemon
1/3 cup rye berries or pearled barley
1/2 cup cottage cheese
fresh herbs
salted water
zest and juice of one lemon
1 tablespoon of canola oil
1 tablespoon of fresh berries
Snack – Roasted chickpeas with almonds
1 cup chickpeas
1/2 teaspoon ground cumin
1/2 teaspoon paprika
2 tablespoons coarsely chopped raw almonds
Olive oil spray
Dinner – Chicken breast with grapes, pears, and rice
1/4 cup basmati rice
3 ounces boneless, skinless chicken breast
1 pear, cut into wedges
1 tablespoon honey
1-ounce pecorino Romano cheese, very thinly sliced
Salt and freshly ground black pepper
10 purple grapes
A small handful of fresh mint leaves
1 tablespoon chopped raw almonds
Potential benefits of following the Nordic diet
There are numerous health outcomes associated with the Nordic diet, including improvements in metabolic health and lower risk of many chronic diseases.
In a randomized controlled trial, scientists tested the health effects of the Nordic diet in a carefully controlled but free-living setting. The results of 147 tested obese subjects showed reduced systolic and diastolic blood pressure by 5.1 and 3.2 mmHg, respectively compared to a controlled diet.
Another Danish study that analyzed a large group of patients over a long period of time suggests that the Nordic diet could prevent strokes and another similar study showed that this diet is associated with a lower risk of a heart attack.
The weight loss effects of this diet
If you decide to follow the Nordic diet or to implement this new Nordic way of eating you will probably lose weight in a slow steady way. When it comes to weight loss, shedding pounds is not easy and it depends on many factors not just what you eat and how much you eat.
If you are on a diet and having trouble losing weight, here is an article that will show you what are the reasons why you aren't losing weight: You Can't Lose Weight? Here Are The Reasons Why.
Let's see what experts found about the Nordic diet and its weight loss effects:
In a controlled trial from 2013 in 147 obese people instructed not to restrict calories, those on a Nordic diet lost 4.7 kg (10.4 pounds), while those on a typical Danish diet lost only 1.5 kg (3.3 pounds). But in a study conducted a year later the participants who followed the Nordic diet had gained most of the weight back.
This is typical for long-term studies on weight loss, people lose weight in the beginning but then gradually gain it back over one to two years.
There is also an interesting long-term study of weight management in women during pregnancy and beyond followed by Norwegian mothers for eight years after their deliveries. The results of this long study showed that women who ate foods that adhered more closely to the Nordic diet during pregnancy gained slightly less weight.
Is it easy to follow?
Like all diets, this one also has some positive sides and also some drawbacks. Here are the pros and cons of following the Nordic way of eating or the New Nordic Diet:
Pros
Feeling full shouldn't be an issue: To succeed on any diet nutrition experts emphasizes the importance of satiety – that satisfied feeling that you've had enough to eat. This is not going to be a problem on the Nordic diet, protein-rich foods with every meal will keep you from feeling hungry.
Nutrition: All the major food groups are part of the Nordic diet, and the diet emphasizes whole foods which are always healthful than the processed ones. Fruits, vegetables, and whole grains provide lots of nutrients, colorful berries offer antioxidants, fish provides omega-3 fatty acids.
Sustainability and Environmental awareness: Four simple considerations for sustainability were used in the formulation of the Nordic diet:
Focus on locally grown foods to minimize the transport of foodstuffs, which helps to minimize the negative impact of transportation on the environment.
Focus on foods from organic food production. The organic production principle is based primarily on consideration for nature and biodiversity, and it is an attempt to care for the soil, biodiversity, quality, health, and the welfare of nature, including plants, animals, and humans. 
Focus on composing a proportion of the diet from foods sourced from the wild countryside, encouraging biodiversity, and minimizing the use of fertilizers and pesticides.
Focus on minimizing waste and utilizing all of every food purchased.
Cons
Time-consuming: Processed foods are not allowed, which means the majority of what you eat should be prepared at home. Also, the diet's creators recommend meals to be consumed in a leisurely, mindful way which some people may find challenging if they are short of time. Routinely preparing and sitting down for homemade meals requires a significant lifestyle commitment.
Expensive: Organic products and fish can be costly even if you live in a place where the seafood is plentiful or there are lots of organic farms.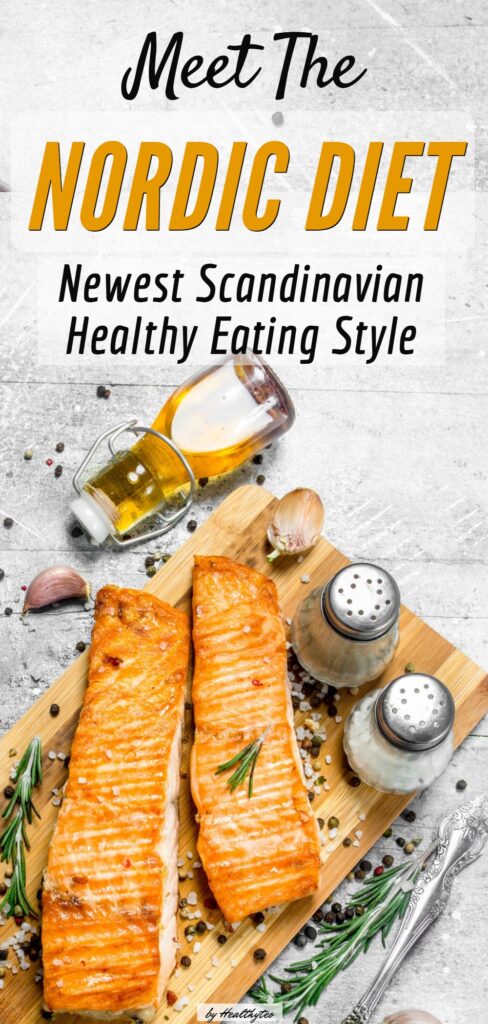 Final thoughts about the Nordic diet
This new concept of eating named Nordic diet or someone calls it the New Nordic diet is great, eating local and environmentally friendly foods. But the reality is that it might be hard to follow.
Some experts say that this diet is hard to follow, and can be easily followed by someone with not only time and money, but an interest and passion for cooking. On the other hand, the Nordic diet is beneficial for your health and also may help with weight loss.
The U.S. Department of Agriculture recommends eating a balanced mix of grains, fruits, vegetables, protein, and dairy products each day. The Nordic diet includes all of these recommendations.
In the end, the Nordic diet is compared to the Meditarenan diet, both diets are similar and if you want to change your way of eating and start consuming healthy and balanced foods, then the Nordic diet is the right choice for you!