Stay at home date ideas for couples
It doesn't matter if you are just starting a relationship or you are married for a couple of years, there will come a time when you need new activities for date night. We will present to you romantic ideas for date night at home that are better than any night out in town or fancy dinner in a restaurant.
If you are reading this article it means that you are one of those couples who want to spend more time with their partner at home and want to find new indoor date night ideas. Regular date nights are important to keep a relationship healthy and strong.
Date nights are important and crucial for every relationship, they help to reconnect and revive your feelings of romance and love.
Concept Of Home Date Night
This concept is pretty simple: if you can't go out on the town, get creative and adaptable and come up with a fun, one-on-one activity you can do with your significant other without having to leave the house. If you have kids, your date starts once they go to bed.
Stay-in dates don't require a lot of time or money to execute, but they can make a big impact on rekindling feelings of romance and helping you re-connect with your wife or girlfriend.
Home Date Night Ideas For Couples
Below we offer 10 ideas for date night at home that are easy to plan, inexpensive, and enjoyable.
So, the next time when you can't afford a night out or you can't find someone to take care of your kids, stay in, and have a fun and romantic evening at home.
1. MAKE YOUR LIVING ROOM A DANCE FLOOR
Dancing is so romantic. Put away the furniture in your living room. Turn on the radio or any dance music that you like.
Make your dance experience extra special by dressing the part and setting the stage. Throw on that fancy dress you rarely have reason to wear, figure out some creative lighting, and clear the floor!
2. TURN YOUR DINING ROOM INTO A DINING DESTINATION
You don't have to go to a restaurant to enjoy a quiet and romantic dinner. You can do it at home too. Pick up some wine and a couple of steaks from the grocery store, make a chocolate dessert, put a nice tablecloth on a dining table, and lit some candles.
Here are some suggestions for setting up a "restaurant" at home:
Set the mood by pulling out the good dishes, using a tablecloth, and lighting candles.
Play soft background music.
Plan the menu according to what works best for you:
If you enjoy cooking, search Pinterest for some doable recipes that are different from your normal fare.
Don't forget dessert. You can purchase something special and decadent from a store or bake something yourself.
A few other things to keep in mind: Though you may be very used to eating at home, remember this is a date.
Relax and linger over your meal, hold hands, look into each other's eyes, and even play footsie under the table. Most importantly, have a conversation.
This is your time to relax and connect. Avoid talking about family topics and instead focus on each other.
3. SPA NIGHT
When you are at home, you can still feel the benefits of a spa without going to the spa center. Some ideas include manicures, pedicures, massage, and a special bath with a bubble bath, rose petals, or bath bombs.
Make your spa night extra special with spa food, such as strawberries, chocolates, and cucumber or fruit-infused water.
Light some candles, lay out fresh towels, and play some relaxing spa music. Then take turns giving each other spa services.
Or, to create some relaxing vibes, make your spa night a gift one of you gives to the other, as few want to be relaxed by a massage only to turn around and have to massage their partner. One of you can be the recipient this time, and next week, it can be the other's turn.
4. STARGAZING
Evenings, especially in the summer, are so romantic that you don't need to do anything. Go outside and sit under the stars.
Just enjoy the night, you can light up a candle or set up blankets and pillows and just look at the stars with a bottle of wine and beautiful glasses in your hands.
Combine your stargazing with a picnic to give it a real date night feel without having to go further than your backyard.
5. BINGE A SEASON OF YOUR FAVORITE SHOW
Finally, finish the last season of whatever show you've been watching together by binge-watching it all in one day. Make sure to equip yourselves with enough snacks!
6. WATCH A CONCERT AT HOME
This one works especially well for those who live in rural areas or far away from typical concert tour stops. Find a recording of your favorite artist in concert and get the fun of seeing them "live" without dealing with the crowds or earsplitting volume. Dance and sing along to your hearts' desire!
7. PLAN A FUTURE TRIP
Spend a cozy night putting together a future vacation together. If you don't have the budget to travel right now, make a bucket list you want to achieve someday, to get yourself and your partner talking out your hopes and dreams for the future.
It will get you out of the day-to-day autopilot and help reinforce how closely aligned your goals are.
8. ASK EACH OTHER QUESTIONS
There are tons of "questions for couples" books and card decks out there. And there are also ones that are not specifically couple-focused, but simply offer fun conversation starters for everybody.
If you feel like you and your wife haven't talked in a long time, and have trouble discussing anything other than work or your kids, having a list of interesting question prompts can get you laughing, conversing, and learning new things about each other again.
9. PICK A NEW HOBBY
Whether it is a dance lesson, painting, cooking, or something that you and your partner always wanted to do, now it is the time. These date nights indoors are great to learn something new with your partner, and it is going to be real fun.
Doing something together as a couple can produce shared feelings of accomplishment that can strengthen your relationship. Just make sure it's something you'll both enjoy and something you might not do otherwise, as date night is all about busting out of your normal routine.
10.MAKE LOVE & GO ALL OUT
Your date night might eventually end up in the bedroom, anyway, but the idea behind this date is to do something really special that's different from your normal routine.
Parents often lose most of their previous sex lives when kids enter the picture. They're short on time, and even when there is time, they're too tired to do much more than a "quickie" or even to have sex at all.
So, to plan a special night, try rekindling some of that old spark by going all out.
Wear sexy lingerie, light candles, sprinkle rose petals on the bed, try some new positions, and even experiment with lotions and body paints – whatever you'd like to try but don't usually give yourselves the time for.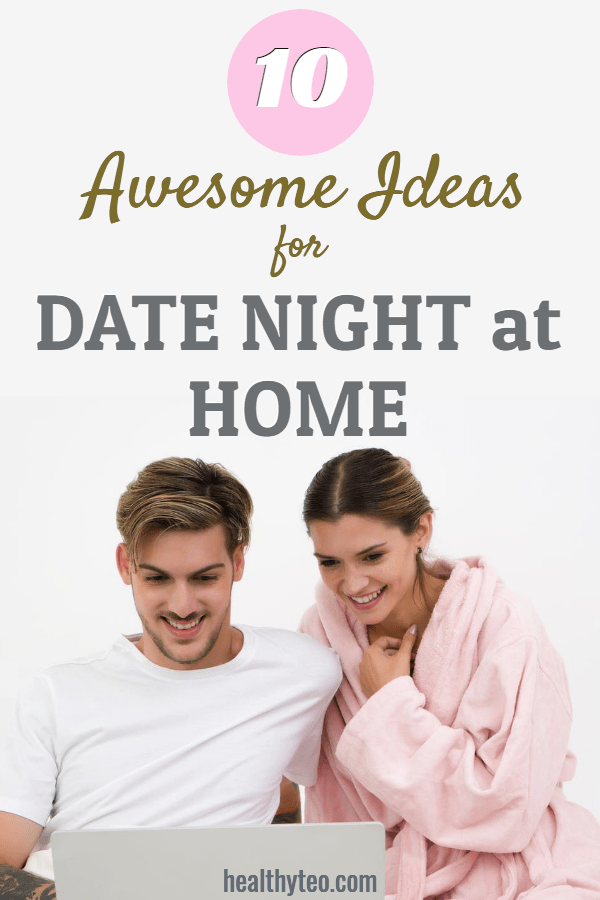 Final thoughts about romantic date night ideas for couples at home
Pick some of these indoors date night ideas and you don't need to practice them while you are stuck at home due to bad weather or low budget. Practice them more often, spending time with your partner is priceless. It will help you to strengthen your relationship.
Focus on each other, communicate, connect and enjoy each other.
If you tried some of these date night ideas for home and you have something interesting to add, please feel free to share with us in the comment section.
Related articles for couples love and relationship