How to cope with stress during self-isolation at home
Today when we are all at home to protect ourselves and our loved ones from the virus that attacked us, we all feel anxious and stressed. We must stay strong and keep on fighting, so some tricks to de-stress and beat anxiety while in self-isolation will help us a lot.
One thing that we don't need right now is added stress or pressure. Questions like, "When this pandemic will end?" or "Is my job safe?", or many more for the future are not helping. You can't change or control anything, you are harming your mental health with this overthinking.
Like every person these days you are fighting with stress and anxiety by eating loads of snacks, but this coping mechanism can cause unwanted side effects- weight gain, sleeping problems, changes in mood, wrinkled skin.
The good news is that you can lift your spirit while in self-isolation without eating so many snacks and overthinking about the future. Here are some tips that can help you with that.
Tips To De-Stress While in Self-Isolation
1. SHUT OFF THE NEWS ONCE IN A WHILE
It is important to be informed and know the latest updates on the situation. But you don't need to constantly scroll through social media for more news. Gerald Nissley, a clinical psychologist, says "An inverse relationship exists between news consumption and resilience".
"In other words, there is a 'sweet spot' where we have enough information to develop a sense of coherence but without becoming overwhelmed." Nissley also advises to not use social media as a source of news. Some news may be not accurate and can alleviate stress and anxiety.
2. STAY ACTIVE
Change some of your Netflix time with movement time. Be active. Stretching routine or high-intensity workouts can be done in your living room.
Star jumps, squats, knee hugs, back taps, and shoulder circles are easy for all the households to do so make your active breaks social ones. Maybe even organize a group call with work colleagues or friends for a quick catch-up.
Before exercise stretching is the most important thing. Read this article that will help you: Stretching exercises for total body flexibility.
3. MINDFULNESS
Ease the tension and anxiety while self-isolation by slowing down your mind with meditation or prayer. "Accepting the situation as it makes us more objective and better able to respond in a way that aligns with our values," Nissley says.
"This can help you avoid catastrophic thinking that leads to impulsive responses." Thinking about the unknown or big-picture things you can't control contributes to stress, which is why it's important to try to stay rooted in the present.
" It's not the stress that kills us, it's our reaction to it."

Hans Selye
4. DEEP BREATHING
Breathing can be used to control our inner peace. Before eating a meal, do some deep belly breathing to calm your mind and reduce stress and anxiety.
Breathing slow and deep into your tummy helps your body feel more peaceful and also keeps your body in an alkaline state which is good for your immune system.
If you want to learn more about breathing, and you should read this article about breathing exercises to calm down your mind and reduce stress.
5. GET SOME FRESH AIR
Being outdoor can give you a healthy perspective and getting some fresh air is the best stress remedy. Eric Patterson, a licensed professional counselor says: "Without experiencing the world, we can start thinking that society is collapsing and madness is breaking loose".
"Seeing the outside world confirms that everything is still – for the most part – the same." Even waving hello to a neighbor from afar can make you feel less isolated.
6. PRACTICE GRATITUDE
Even on hard days, it is good to practice gratitude. Give thanks to daily things that you often take for granted.
Just simple gratefulness for having a lovely and healthy family, having hot water for coffee, food, or just whatever you can think at the moment.
If you want to know more about how gratitude changes your brain visit this article: How Gratitude Transforms The Human Heart and Molecular Structure of the Brain.
Spending just a little moment practicing gratitude especially in the morning after you wake up will drastically improve your well-being.
7. READ AND WRITE
Get those books that you've wanted to read for a long time. It doesn't mean that you have to readjust books, there are plenty of things to read online.
Read and learn something new, read about stuff that you are interested in. There is a lot of free information available that can help you learn and grow in the process of personal development.
8. REACH OUT TO LOVED ONES
If you live by yourself, being confined to your home can be extremely lonely. If you're taking care of your family without any form of a break, that can also be draining.
FaceTiming or taking advantage of other virtual face-to-face interactions can replace some of the voids of not being able to see your loved ones in person (and it can help distract your kids when you need a moment to yourself).
"Oftentimes, we can emotionally cope through our connections with others," Nissley says. "Social interaction increases the number of brain chemicals that promote adjustment."
Even a quick email or a simple text can help. "Use this as an opportunity to touch base with friends who you've been meaning to catch up with".
9. DO SOMETHING KIND
Donate within your means, send a nice text message, or find another way to practice kindness at a distance.
" Stop trying to calm the storm. Calm yourself the storm will pass."

Timber Hawkeye
10. MAINTAIN YOUR MORNING RITUALS
If you are in self-isolation you probably work from home. It doesn't mean that you should skip your morning ritual.
Don't just sit all day in your pajamas, make breakfast, have a shower, do whatever you do on normal days before going to work.
Dan Sneider-Cotter, a school social worker and private practice therapist say, "Humans are creatures of habit, and rituals matter," "Regardless of what else is happening in the world, you are priming your brain to be alert and prepared for the day."
11. CREATE AN ENVIRONMENT YOU ARE HAPPY WITH
Whether you are in self-isolation or working from home create an environment you are happy with. It may be a good time to declutter, make room for yourself and others to work, play, and rest.
Grab a pot plant next time you go for your shop or order online, get the candle out of the cupboard you were saving for a special occasion and set them out somewhere you can see it throughout the day, push back those curtains, let the sun in and open the windows to fill your rooms with fresh air.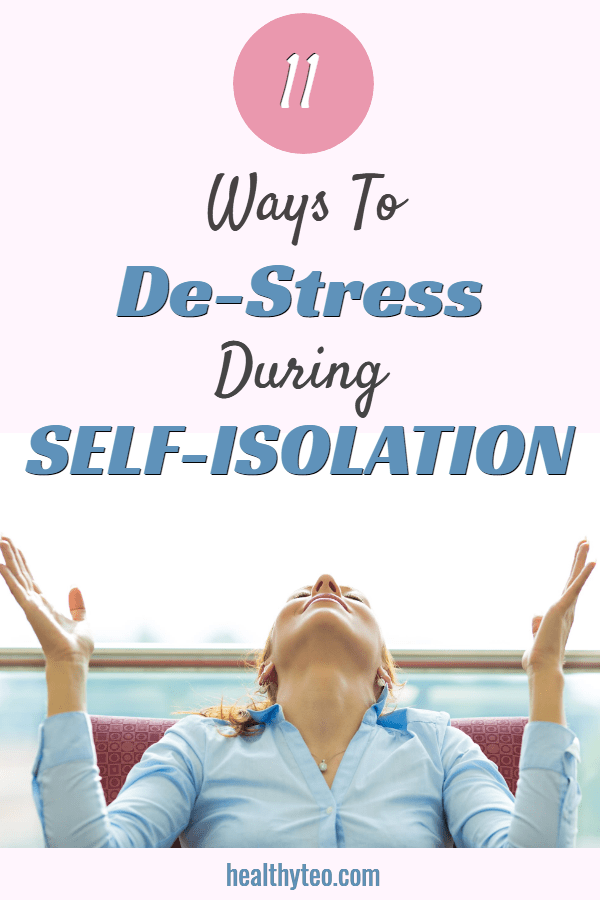 Final words about stress relief while in self-isolation
Self-isolation doesn't mean just sitting and watching TV. This and eating too much can elevate stress and anxiety.
Don't overthink, try some of these tips to reduce stress and calm your mind during a hard period of sitting home.
It is up to you, how you see things, and how you react. Take some action and make some changes. Remember after the rain there is always sun.
This period of sitting home and self-isolation will pass and yes, we must be prepared mentally to overcome all obstacles that are coming after that.
Stay safe and take care of your mental health.
Related articles: