Fun indoor activities for kids on a rainy days
When you and your kids are at home due to bad weather unexpected school closure or for any other reason you must be prepared to organize their time. That is why we are going to present indoor activities for kids that are so fun and at the same time educational.
It is good when your kids are learning new things and at the same time, they are having fun.
Before we get started with the activities list it is good to know some tips.
First, divide the day up into a timetable and stick it on the place where anyone can see it, let's say on your fridge.
Have time to set it up for educational tasks and break it up with fun activities. These breaks will keep your kids happy and engaged.
Another tip for you, don't stress about feeling every moment of the day. Let your kids watch a TV and play some computer games. It is all about balance, you can't expect just to learn and play games that you will give them.
We are living in a digital era and you can't get away from screens and smartphones. But you must have control over what they are watching, playing, and yes, control the time.
Indoor Activities for Kids
Board Games
This is an old idea but if you want to take away your kids from the screens this is the best way to do that. Get your competitive spirit up and get ready to play.
Have a dance party
Even if they are at home and can't go to the playground every kid has to move and be physically active. Choose a playlist together, blast the music, and let them shake the sillies out.
Bring the outdoors in
You can help them to make forts from blankets or pillows or simply pop up your tent in the middle of the room. Tell them a story about camping, pretend that you have a river in front of your fortress or tent.
Jigsaw Puzzle
They are great because everyone can do them on their schedules — just leave one out on the table, and the family can float by and try to fit in a few new pieces whenever they have a few minutes to spare. Plus, studies show that puzzles improve collaboration and cooperation skills.
Here is a great game for your kids to teach time. Santa's Christmas Timer: Fun Board Game To Teach Time.
Give Each Other Makeover
Experiment with a new style, take out your old makeup, nail polish, and hairbrush. Try some new things, you will laugh and your kids will laughing too.
Read Out Loud
Whether it is Lord of The Rings or Runaway Bunny, sit on the couch with your kids and read out loud. This old fashion model of education is never getting old. Kids will be happy and will listen to you and yes, you will sit and rest a little.
Karaoke
If you don't have a karaoke machine just plug your microphone on the computer and start singing songs that you like.
Word Games
It's crazy to think that Mad Libs have been around since the '50s, and kids still get a kick out of them.
If you don't feel like stocking up on Mad Libs books, you can also play some kind of "exquisite corpse" game: The first person writes an opening sentence to a story.
The next player adds the second sentence. The third person adds the next line but is only allowed to see the second player's sentence.
And so it goes, with each player adding a line while only looking at one preceding sentence until the final story – which usually makes no sense – is read out loud.
Movies
If you are tucked at home for a longer period you can't get away from the screens. Choose a Tv Show or cartoons that you think are appropriate for your kids and let them spent a little time in front of a TV.
It is Time for Magic
You don't need to be Houdini to perform some tricks. Simply place a coin under one of three cups and shuffle the cups around.
Then ask your children to guess which cup holds the coin. Sneaky parents can place the cups near the edge of a table and secretly drop the coin. Watch your tots' eyes light up in amazement when they learn the coin is gone!
Hide and Seek
No list of indoor games would be complete without Hiding and Seek, now would it?
In this classic game, one person ("It") covers his or her eyes and counts aloud while the other players hide. When "It" is finished counting, he or she begins looking for the hiders. The last hider to be found in the next "It."
Warning: this game is often a source of giggle fits. Families with older children might want to take things up a notch and play Hide and Seek in the dark. Just to be safe, make sure there are no loose items on the floor. If you want, allow "It" to carry a flashlight or turn the lights on once "It" finishes counting.
Hot Potato
This game will have everyone giggling. Ask the kids to sit on the floor in a circle. Turn on some tunes and have them pass the potato (a bean bag or softball) around the circle as fast as they can.
When the music stops, the player holding the potato leaves the circle. Keep going until only one player is left and wins the game.
Bubbles
You don't have to go outside to enjoy bubbles. For this indoor game, you need a plate and straw for each player, some dishwashing soap, and water.
Place a dime-size drop of dish soap at the center of each plate. Pour a little water onto the plate and gently mix with the dish soap until some suds start to form. Have the kids place the straw in the suds and blow very gently.
Watch as massive bubbles start to form. To make this competitive, see who blows the biggest, or longest-lasting, bubble.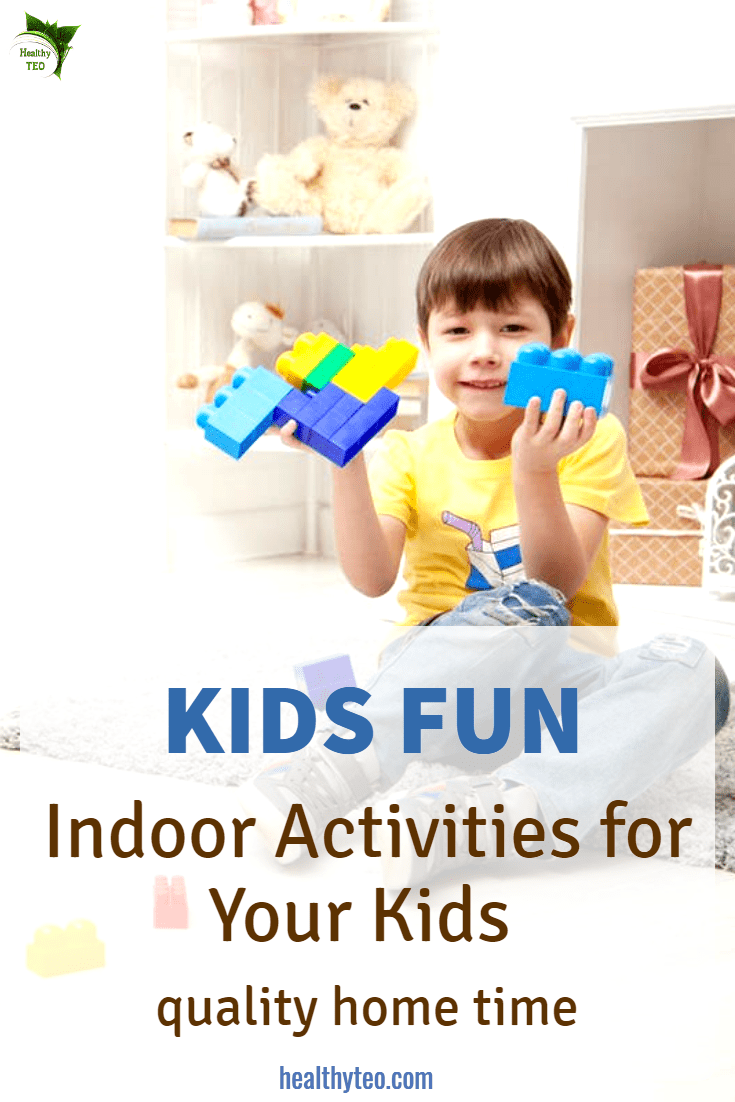 Conclusion: These indoor activities for kids will help you and your kids spent quality and a great time when you are stuck at home.
These games and activities are educational and good for your kids so you don't need to play them just when you are a longer period at home.
Try some of them even on normal days when you come back from work or school. Spend more time with your kids and make that time remembrance.
Every second spent with them is so precious and important for you as a parent and also for them.
Have fun!