If you have a problem with hair loss and want to change that with natural remedies for hair loss you are at the right place.
First, let's see what is hair loss and why this condition happens.
Hair loss (Alopecia areata) is a very uncomfortable condition, especially for the man. It is a disease correlated with the immune system.
Let's first see what is the reason for hair loss and see what home remedies we can use to stop this condition.
Alopecia areata is a disease where your immune system attacks your hair follicles and leads to severe hair loss.
As a result, bald/thinning patches appear anywhere on the body, though more prominently on the scalp. While the hair might regrow, the thinning and balding will likely start in another area.
Since the hair loss can be temporary or permanent, it can be a little too risky to not go for treatment.
One of the best options for you would be to go for natural treatments and home remedies.
So here are 10 natural home remedies proven to help with hair growth and some more you can experiment with.
This post may contain affiliate links, which means we may receive a small commission, at no cost to you, if you make a purchase through a link. For more information, please see our disclosure.
Natural remedies for hair loss
1.Garlic Juice
Garlic nourishes your hair while spicing up your dishes. This sulfur-rich veggie is one of the best natural treatments for alopecia. It boosts hair growth and prevents hair fall by increasing collagen production.
How to use: Crush a few garlic cloves and squeeze to get the juice. Mix this with a few spoons of coconut oil and let it simmer over heat for a few minutes.
Take it off the heat, let it cool, apply it to your scalp, and massage. Wash it off with cool water after 30 minutes.
2.Onion Juice
Onions are those wonderful veggies that can make any dish taste that much better!
But you've more reason than this to stock up on onions in your kitchen – they increase the regrowth of hair in the bald patches in alopecia areata patients!
Onions contain a high amount of sulfur and can fight free radical damage. They can improve blood circulation in the scalp and prevent any kind of infection that causes hair loss.
3.Lavender Oil
This calming essential oil is frequently used to help people de-stress, reduce anxiety and depression, and improve well-being.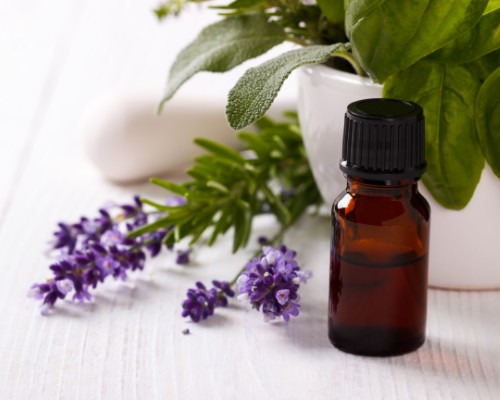 But this is not it… the oil is a brilliant home remedy for hair loss in alopecia areata.
Studies have shown that essential oil blends that contain lavender strengthen the hair follicles and induce hair growth.
How to use: Mix lavender oil with a carrier oil such as almond or coconut and apply. Alternatively, blend the oil with thyme, cedarwood, and rosemary with carrier oils such as grapeseed and jojoba.
4.Rosemary Oil
Rosemary is another great essential oil that can treat hair loss.
One study compared the effectiveness of rosemary in treating hair loss to that of a commonly recommended medicine for the condition, minoxidil.
Although both produced equivalent hair growth, rosemary did not cause as much scalp itching as minoxidil did.
The oil also works well as a part of aromatherapy blends for alopecia areata. Plus, while minoxidil disrupts hormonal balance, rosemary has no such side effects.
How to use: Mix rosemary with a carrier oil or make a blend and massage onto the scalp. Alternatively, boil and strain rosemary leaves in water and wash your hair with it.
5.Green Tea
Make green tea, drink some of it, and keep some aside for your home treatment for alopecia areata – as simple as that!
This is one of the easiest remedies for hair loss. Green tea is an antioxidant and contains polyphenols, which strengthen the hair follicles, prevent infections, and regenerate healthy cells on the scalp.
How to use: Make some green tea and let it cool down. Dip a cotton cloth into it and apply it to the scalp. Retain this for an hour and wash it off.
6.Chinese Hibiscus
The Chinese hibiscus, or hibiscus rosa-Sinensis, is a flowery herbal remedy for alopecia areata, with the potential to boost hair growth and stop hair fall.
It is also believed to prevent split ends and make your hair look lustrous.
How to use: Mix a few petals of the Chinese hibiscus in dandelion oil. Apply this to your scalp. Wash it off after about 15 minutes.
7.Almond Oil
Although there's not much research to back up just how almond oil can contribute to hair care, this oil is frequently in products that increase hair growth.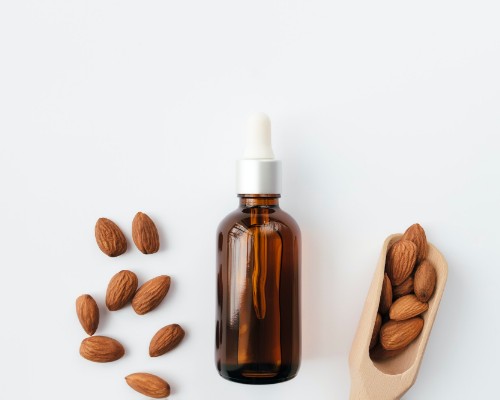 Using almond oil frequently will reduce dandruff and split ends and might consequently stop hair fall in alopecia areata.
How to use: Apply almond oil to your hair, leave it overnight, and shampoo it off with lukewarm water.
8.Honey
Raw and organic honey is an ingredient all too frequently used in Ayurvedic home remedies for hair fall and for good reason.
Honey reduces infections and related hair loss. If used consistently over a longer period, honey can keep hair loss due to alopecia at bay for all your life.
It can also be used with some other home remedy ingredients mentioned here as a complementary natural treatment for alopecia.
How to use: Use honey by itself or mix it with equal quantities of either curd, lemon juice, or onion juice and apply it to the scalp. Wash it off after about 15 minutes.
9.Coconut Milk
Coconut milk, an easy home remedy for alopecia areata, is one of the best options for massaging your scalp. Doing so stimulates the hair follicles and increases hair growth.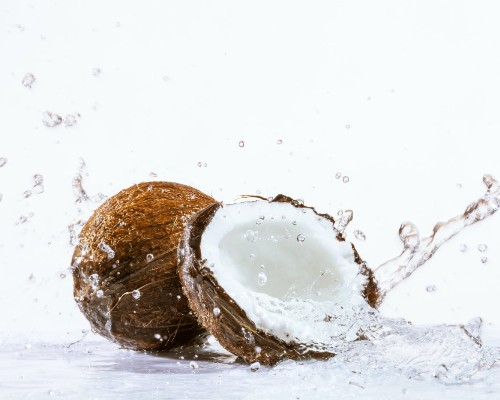 How to use: Just grind the coconut shavings and squeeze the milk out of them. Apply this over the scalp and massage gently into the roots. Use a mild shampoo to wash it off after a few minutes.
10.Coconut Oil
Coconut oil is one of the most common ingredients in Ayurvedic formulations, especially for hair loss.
Frequent application of coconut oil keeps the hair luscious and healthy when suffering from alopecia. It can even prevent possible damage to the hair when you comb it.
How to use: Get pure, organic coconut oil, apply it to your hair, and leave it overnight. Wash it off with cool water.
Conclusion: If you have problems with hair loss the root of this is your immune system. So live healthy, eat healthy food, exercise, and boost your immune system.
You can try these home remedies, but if the problem did not go away you must consult with your doctor for further actions.
References:
1. Hajheydari, Zohreh, Mojgan Jamshidi, Jafar Akbari, and Rezaali Mohammadpour. "Combination of topical garlic gel and betamethasone valerate cream in the treatment of localized alopecia areata: a double-blind randomized controlled study." Indian Journal of Dermatology, Venereology, and Leprology 73, no. 1 (2007): 29.
2.Sharquie, Khalifa E., and Hala K. Al‐Obaidi. "Onion juice (Allium cepa L.), a new topical treatment for alopecia areata." The Journal of dermatology 29, no. 6 (2002): 343-346.
3.Panahi, Y., M. Taghizadeh, E. T. Marzony, and A. Sahebkar. "Rosemary oil vs minoxidil 2% for the treatment of androgenetic alopecia: a randomized comparative trial." Skinmed 13, no. 1 (2014): 15-21.
4.Esfandiari, Adeleh, and A. Paul Kelly. "The effects of tea polyphenolic compounds on hair loss among rodents." Journal of the National Medical Association 97, no. 8 (2005): 1165.
5.Rele, Aarti S., and R. B. Mohile. "Effect of mineral oil, sunflower oil, and coconut oil on prevention of hair damage." Journal of cosmetic science 54, no. 2 (2002): 175-192.